dcspoonman
4

June 19th, 2006 + 7:06 PM
·

dcspoonman
A long time back I set about working on the songs I have uploaded onto the site, and now I feel i have improved them taking in the advice given by so many people on here. I want to get rid of the versions already on here and re-upload the new ones, is it possible to get rid of the old ones???
Also, I'm having some trouble uploading a new one I have finished, it is definitely MP3 and definitely at 128bit 44100... I'm normally OK with this kind of stuff, but it's really starting to mess with my head now
Anyone, any advice??????
Dave
0

May 6th, 2006 + 11:05 PM
·

dcspoonman
Ok, i have tried everything to upload a song but it still wont let me... It's telling me I already have a song with this nam, but i don't... Its also saying not a valid MP3????
I'm gettin really frustrated now (AAAggghhh, he screamed)
Can anyone help?
I have had some problems uploading in the past, but they always turned out to be connection problems or alot of traffic on the servers...
Cheers,
Dave
7

June 28th, 2005 + 8:06 PM
·

dcspoonman
Does anyone else dislike the terms used in the ratings??? It's just that whenever i have rated a song as mediocre it leaves me feeling like a shit head when i dont even nessacerily dislike the song... Couldn't we do it with numbers or stars or something... I seen in another post (sindre i think) that the ratings equate to a number and percentage system anyway, but its just the terms used once you rate below a "not bad" that i find hard, so much so that i find myself giving a not bad for songs that were well put together but did nothing for me, and not bad for songs that were acctually not very good atall, just to save the bad taste it would leave in my mouth rating something that means something to someone as "mediocre"

Is it just me????
14

June 26th, 2005 + 7:06 PM
·

dcspoonman
Gonna be re-doing this one with a little less Jim morrison in there...
6

June 14th, 2005 + 10:06 PM
·

dcspoonman
Would it be possible to make it so that we could listen to a track whilst navigating round the site without the song stopping? At the moment, you have to stay in the listen area to listen, it would be good to be able to have some of the traks playing in the background whilst i'm writing this... Just a thought
Alias:
dcspoonman

Status: Offline
Threads:
8
Posts:
102
Songs:
3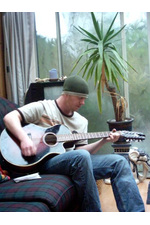 Joined: April 27th, 2005
Last login: January 18th, 2009
My Messengers
| | |
| --- | --- |
| AIM: | n/a |
| ICQ: | n/a |
| Skype: | n/a |